DORIS MOSES-WARREN

M & D REAL ESTATE-Doris Moses-Warren -BROKER
P.O. Box 145
6421 Hwy 39 N
Normangee, Tx. 77871
U.S.A.
(936)396-9216
(936)570-1176 fax
(936)348-9216 cell Doris

Send Us

E-mail

Copyright 1999-2011
M & D REAL ESTATE
All Rights Reserved
Photos by PhotoDisc



SOLD ****PRICE REDUCTION~~~WILL DIVIDE - 45 BEAUTIFUL ACRES , NEW ROOF, FRESH PAINT INSIDE WITH LOVELY OLDER /COZY, 3 BR., 2BA., HOME - 8002 Hwy 21 W - 3 CARPORT, FRONTAGE ON HWY 21 W. AND OXFORD CEMETERY RD.
SEE BELOW FOR NEW PRICING - WILL DIVIDE.
THIS IS A NICE OLDER HOME THAT HAS BEEN REMODELED IN THE PAST YEARS.IT HAS A NEW ROOF THAT WAS PUT ON APRIL, 2013, FRESH PAINT INSIDE, APPEARS TO BE ON PIER/BEAM/BLOCKS/ AND HAS BEEN BRICK UP(RED)AROUND HOME. PER CAD APPROX. 2131 S.F., OPEN PORCH-32 S.F., ENCLOSED PORCH(SUNROOM)APPROX. 338 S.F.). IT HAS A DEN/FIREPLACE, KITCHEN/BREAKFAST AREA/OFFICE/FORMAL DINING/LARGE UTILITY ROOM/3 BR. 2 BA.. THIS HOME IS SITUATED ON 45 ACRES(APPROX. 7 AC. WOODS/BALANCE OPEN WITH SCATTERED TREES, TWO STOCK TANKS, 3 CARPORT, SMALL BUILDING(OFFICE), BARN, WORKING PENS, JET SEPTIC SYSTEM(SPRINKLER HEADS), HIGH PRAIRE WATER PLUS WATER WELL AND MUCH MORE!!
VIEW DRIVING IN FROM HWY. 21 WEST, LOVELY YARD
VIEW OF YARD
SMALL BUILDING(COULD BE USED FOR OFFICE, BEAUTY SHOP, ETC. 3 CARPORT(METAL/CEMENT FLOOR)
LOVELY SHADED BACK YARD/SUNROOM/WELL HOUSE
BARN,LARGE OAKS
VIEW OF BARN AND WOODED AREA
BACK OF BARN AND WORKING PENS
STOCK TANK/NEXT TO OXFORD CEMETERY ROAD
2ND STOCK TANK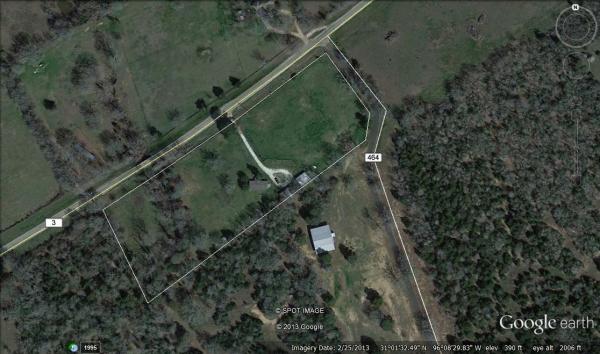 AERIAL OF APPROX. 45 AC./WOODS/STOCK TANKS/FRONTAGE ON OXFORD CEMETERY ROAD AND HWY 21
HWY.21. 25 AC., 3BR., 2BA., HOME, BARN, SUNROOM, JET SEPTIC, STOCK TANKS, WATER WELL PIPE PENS, 3 C/P, SHOP - ASKING: $199,500.00

HWY. 21W. 20 AC., 3BR., 2 BA., HOME, BARN, SUNROOM, JET SEPTIC, STOCK TANK, WATER WELL, PIPE PENS, 3 C/P, SHOP, ASKING: $179,500.00
ALL INFORMATION PROVIDED BY THE SELLER, LISTING AGENT/BROKER IS DEEMED RELIABLE, BUT IS NOT GUARANTEED, SHOULD BE INDEPENDLY
VERIFIED.